Many companies in the Philippines are characterized by a large number of employees as part of its workforce. This is because the country is known to be a fast-developing economy that boasts a population with millions of workers.

Because of this sizable amount of people belonging in the working sector, many companies can suffer from mismanagement and inefficiency in their human resources department.

Although not part of the sales-generating department, it is arguable to say that Human Resources is perhaps up there in the most important departments of a company. After all, the backbone of a business is not its product, but rather its people.

The challenge in managing human resources

Many companies have varying needs and operations in their HR departments. For example, in recruitment, many have their own internal recruiters, while others would outsource that to an agency instead.

Another example is trainings and employee career development. Depending on the industry, the process and scale of which these are planned and executed vary greatly from each other.

However, despite all these differences, there are common denominators in HR departments. These commonalities are fundamentals of human resources and thus, making them integral to any company no matter what the nature.

Here is a short list of what we have gathered:

1.) Records management
2.) Company onboarding process and roadmap trainings
3.) Management and enforcement of company compliance policies
4.) Inter-organization information dissemination
5.) Staff management

In these key functions of HR, there will be many issues that can hinder productivity among the HR department staff, as well all the employees throughout the organization.

This is because at the end of the day, the HR department is tied to every single department so as long it has manpower. Here are some of the issues that you should know: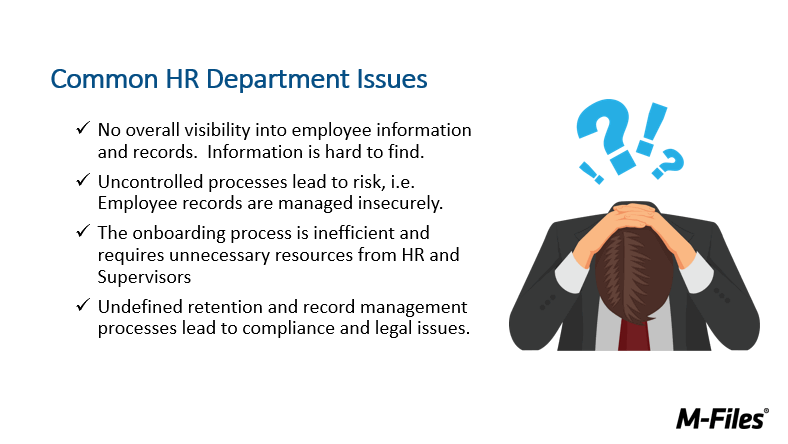 Being the backbone of the workforce, the HR department holds an undeniably crucial responsibility of managing the employees. Although it may sound simple, this goes deeper into aspects such as data, compliance, regulations, compensation, incentives, career development, and conflict management.

In spite of the vastness of human resources, we can trace down one important aspect that needs to be addressed here, and that is Information Management.

Whether it be company data, employee records, payrolls, or development plans, documents and information is synonymous to the HR department.

This is where innovation plays a crucial role. Currently, Philippines is behind the technological advancement of businesses. However, that doesn't mean companies can't get access to this important trend immediately, because that truth is, it's readily accessible.

The Problem of Old Processes

There will always be a benefit to sticking to what is tried and tested. It's safer, it's less complicated, and it's proven over a long period of time. However, tried and tested doesn't mean efficient. Perhaps, we can say this to how many companies do HR in the country.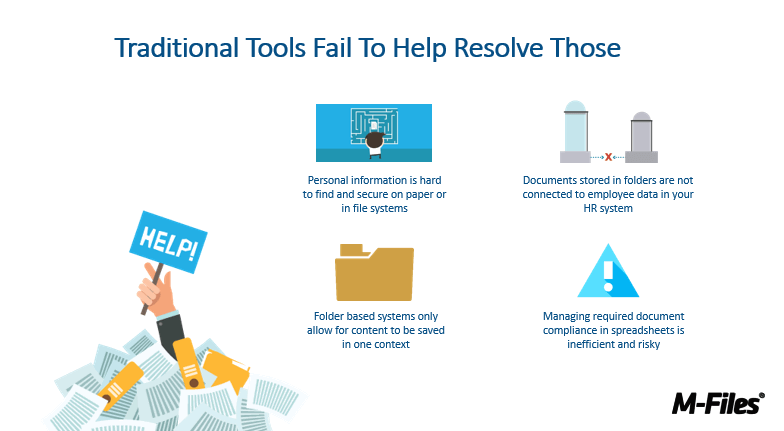 Many Philippine companies tend to overlook the importance of HR systems and use manual processes instead. Lots rely on the basic concept of saving thousands of documents in a hard drive and sorting it out by using folders.

This creates a risk for many things such as mismanagement, time consumption, information loss, and inaccuracy.

Innovating HR through an application:

M-Files for Human Resources is a digital application that allows companies to organize their HR department through intelligent information and document management.

Having an AI-backed application that can seamlessly integrate all HR-related documents and tasks gives the department a uniformed and efficient approach in executing their organizational function.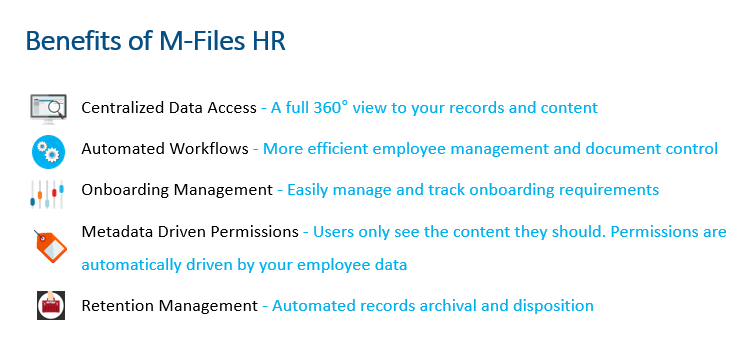 By using a Document Management System like M-Files, employees can find a document faster because the app knows what it is vs. where it is. For example, former employee records can be sorted out by the app from current ones.

It can even be more complex by connecting predecessors to their successors.
Automated workflows for better training management and onboarding processes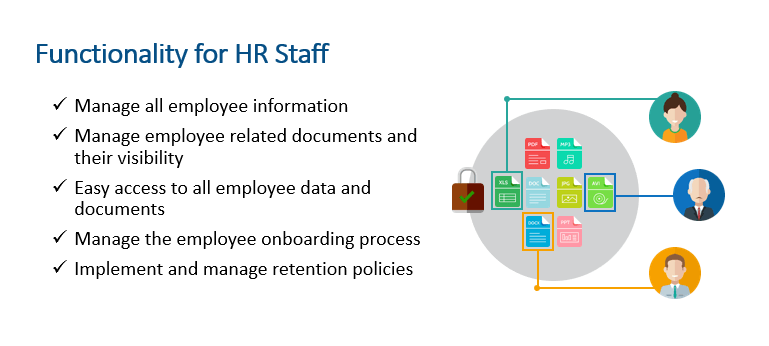 As seen above, sorting documents and managing them is just the tip of the iceberg. With M-files HR, users can also put their entire organizational procedure in the app and conduct automated workflows.

These workflows are customizable depending on how the department works as a team. Here, stored documents can be revised, annotated, routed, and signed among members of the HR department -- depending on the flow.

This workflow is also crucial for training management, another function of the HR team.

When employees go under training, this is usually monitored by the managers. It also usually involves evaluations, reports, and compliance.

The same can be said for company onboarding. By going digital, the flow of an onboarding process can be organized and managed through the automated workflow. Some quick features that the app can do are sending assignments, notifications, and automating tasks that are tedious for the employee to do.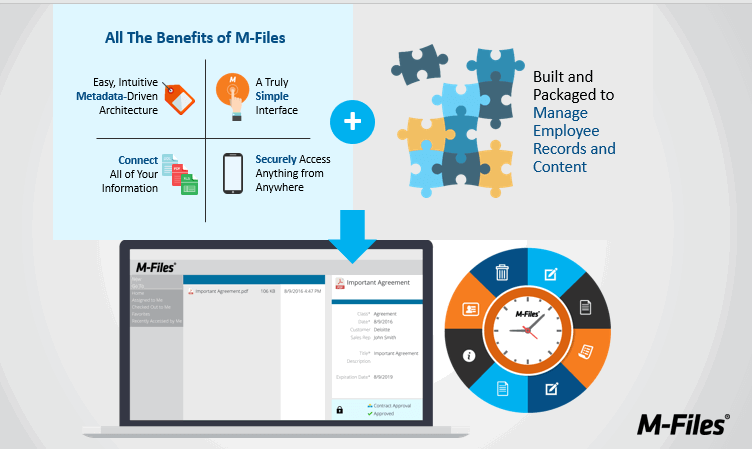 Easy to Integrate, Hard to Let Go
The best part about M-Files is that it has many ready-to-deploy solution templates depending on the organizational need. One of these is M-Files for HR, and this instantly provides the company with a ready-made template to use. Even if the template slightly differs from how the company conducts its HR work, customizing it to meet the requirement is easy to do as well.
Further, if one already has a Human Resources Information System (HRIS), but lacks the document management and automated workflow ability of M-Files, integrating it can be done seamlessly. It's truly a plug-and-play business application that can provide exponential benefits to any HR department right from the get-go.
If you're interested in knowing more about M-Files HR, then feel free to request a demo or sales call through our website or by emailing inquiry@infomax.com.ph.