Many business experts agree that contract management is one overlooked area in business operations. It's one of the less glamorous parts of business, far from the thrilling sales presentations, exciting marketing campaigns, and creative product developments.

However, contract management is essential to almost any kind of business. This is especially true today where businesses interact with other businesses more frequently due to the globalized and free-market economy of the Philippines.

What is Contract Management at its core?

Contract management is what its name implies: It's the systematic business process of managing contracts, whether internally or externally.

An example of an internal contract would be an employer and its employees' contract sheet. However, the main meat of contract management's importance is when a business has external agreements. These are commonly with their clients, suppliers, and partners.

How Contract Management is Usually Done

Unfortunately, many companies locally still suffer from poor contract management. We say it is poor because it usually leads to disorganized or lost contracts, and bottlenecks throughout the process. This disrupts a business and leads to a loss in productivity, which in turn negatively affects sales and profit.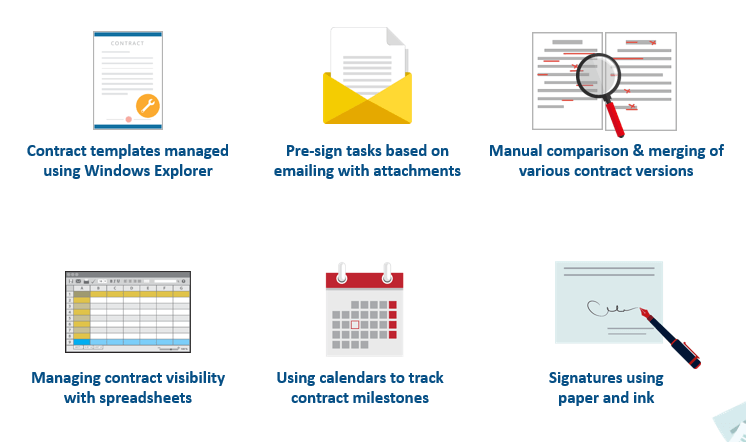 As seen above, most businesses that are not well-equipped with efficient contract management processes use these six tools for management. What is the weakness in these, you might ask?
The biggest negative here is the lack of seamlessness in the process. In the image above, there are five separate tools that are used which do not integrate and communicate with each other.
When a company relies on multiple basic tools such as spreadsheets, email, calendar apps, browsers, and paper -- it becomes extremely hard to create a uniform and systematic process. Here's a quick summary below: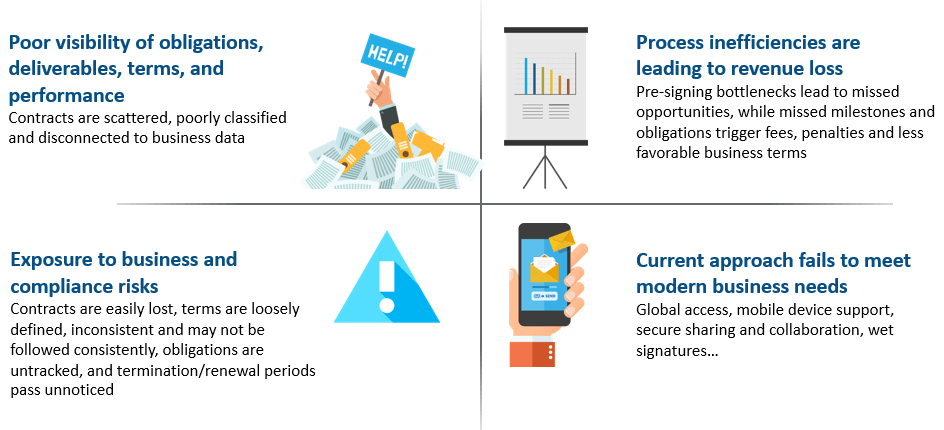 So what's the recommendation?
Enter Contract Management solutions: An IT business solution that focuses on eliminating the dreaded inefficiency in contract management.

As one of our most trusted partners, we will use M-Files' Contract Management solution template to show how much of a game-changer it is to have technology on your side in managing contracts.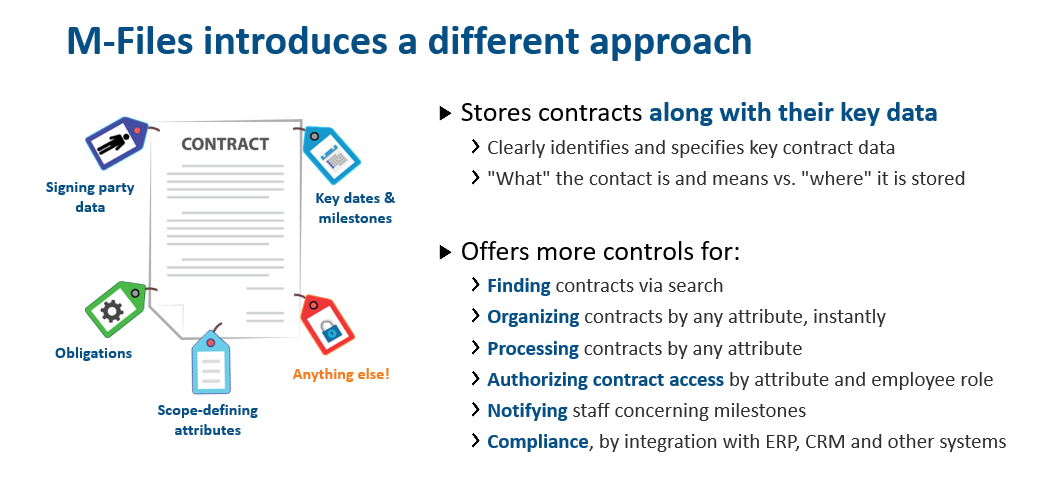 The M-Files Contract Management template is the application's pre-custom solution template that is tailored for contract management workflows. The application essentially alleviates the lack of communication from several platforms while also enhancing digitization and automation capabilities of managing contracts.
M-Files at its core is a Document Management System. This means that the application organizes documents by default, and M-Files organizes these through an Intelligent Metadata Layer (IML).

Without going into the technicalities, IML is an AI-powered feature that allows M-Files to find documents by what it is and not by where it is -- so in this case, it will find contracts among other documents.

It doesn't end there, as you can also process these through the application by routing it to co-workers, revising or annotating it, and also ensuring compliance protocols.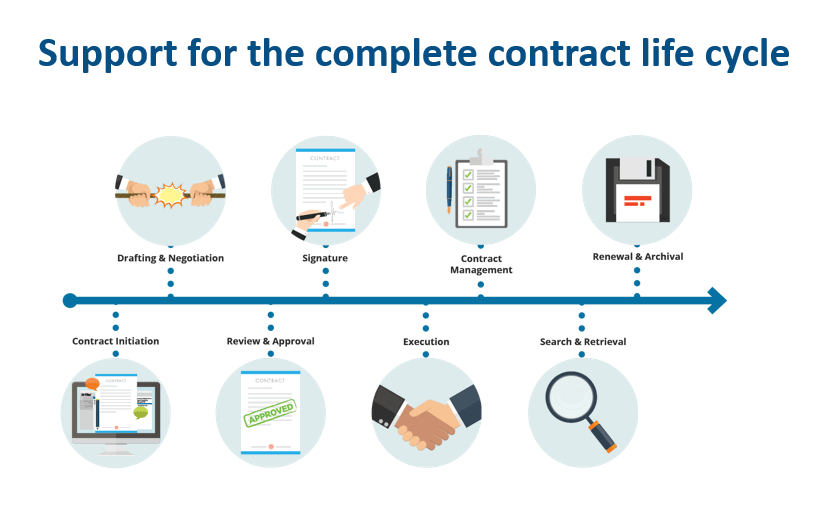 However, by getting M-Files' Contract Management Solution Template, the efficiency of doing these even gets better. This is primarily thanks to the workflow.

Contracts have a lifecycle because they are always bounded by time and conditions. Having a good grip of that lifecycle without manual processes like comparing old versus new contracts is crucial.

With this template, companies don't need to worry about establishing their own digitized process from the ground up. There's already a custom-made workflow system (seen above) that allows you to begin from day one. The best part about this is that you can always customize it should your processes be slightly different.
To get a full view of M-Files for Contract Management, take a look at some of our graphics below: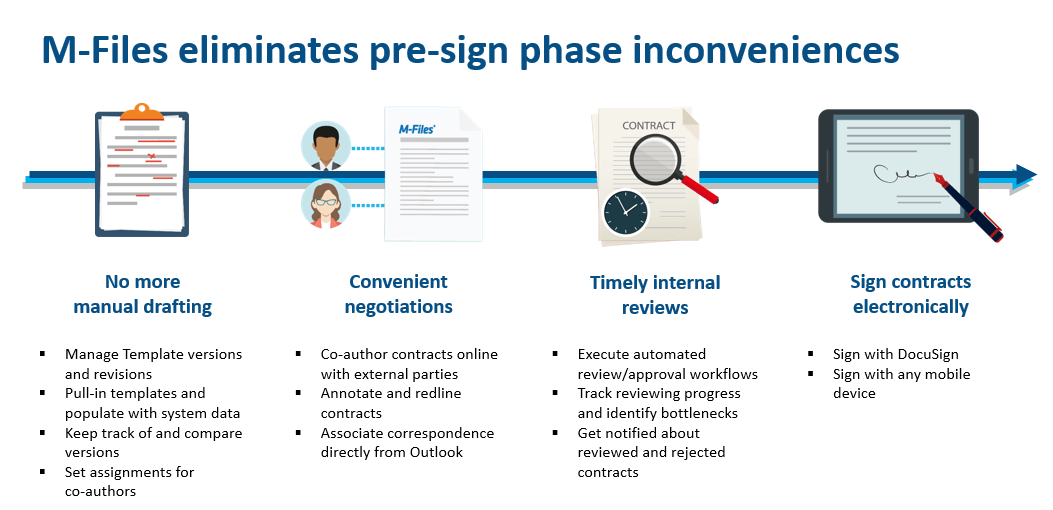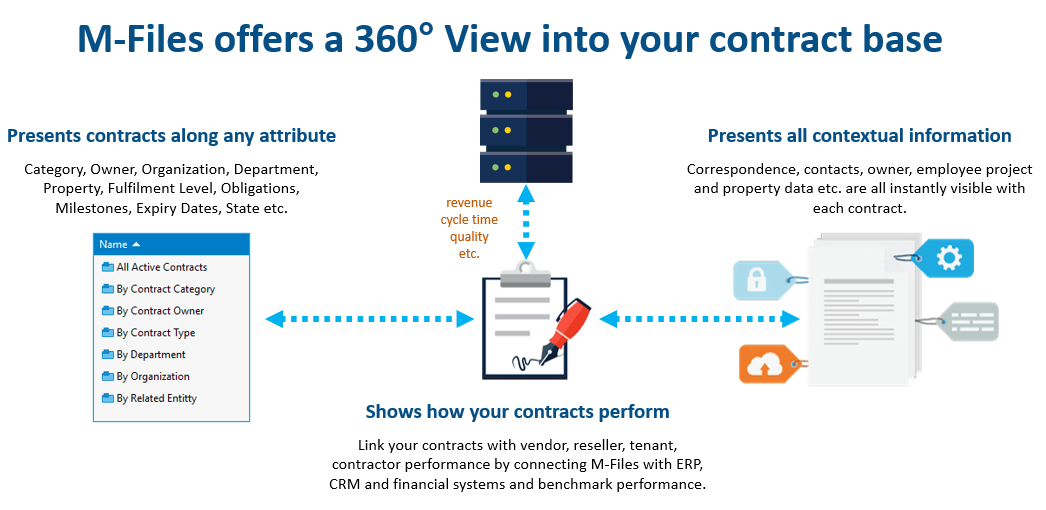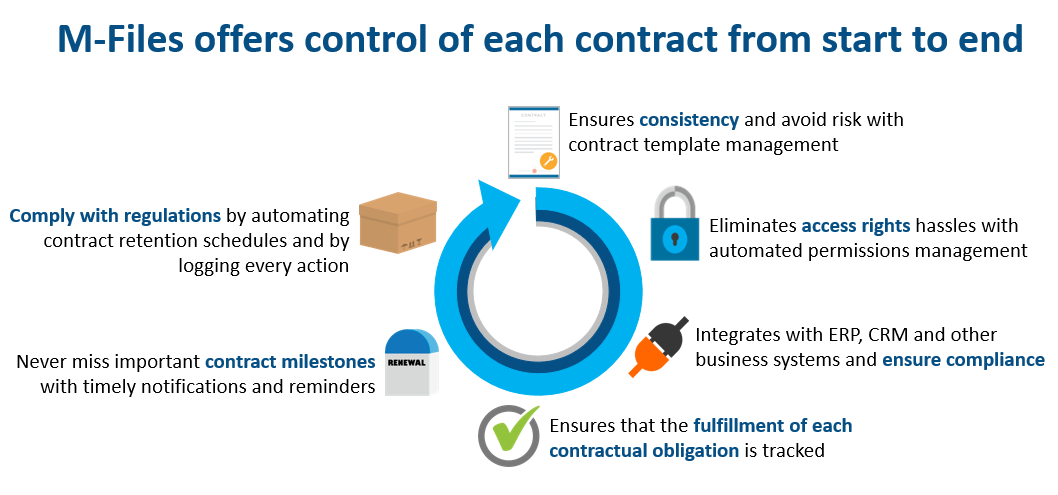 An end-to-end digital platform for efficient management

In summary, contract management can be a daunting task for an organization. There are many proponents that affect a contract and its lifecycle, and not being equipped with the modern day tools today could be the difference between productivity and a loss in profit.

Having a digital app is a simple yet highly effective solution in ensuring a company can fully manage its contracts by having complete control and transparency on how it's stored, routed, revised, and delivered.

Have any questions? Think your company can benefit from a Contract Management solution like M-Files? Send as an email at inquiry@infomax.com.ph.