ENCollect app takes away the grind of assigning and re-assigning accounts to collectors. No more excels and emails. Howsoever complex your strategy be, ENCollect app makes it very easy to assign & track accounts to the last person. Overall, it means a huge overhead cost and efforts saving for you.
You can manage all communication activities for all stages of collections from ENCollect app. You can assign calls to the collectors by pushing queues into their app. Collectors can then initiate and track calls or even use WhatsApp communication from the app.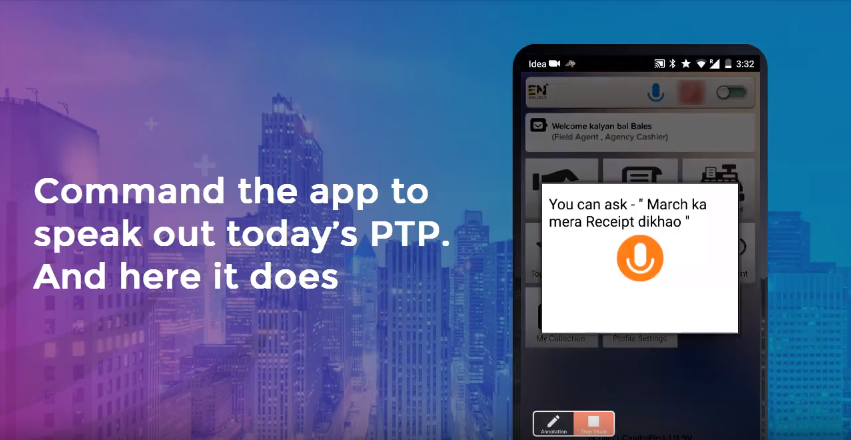 And once you are done calling, sending dunning letters, reminding in person (if regulations allow), you can initiate hardships or refer the case to legal or start repossession steps, just with a press of button in the app.

For more details, check out its many features below:

Digital Ubiquity

There is no reason to miss out on a payment when a customer is ready to pay. With ENCollect you can enable multiple payment modes across all channels. You can send out custom payment links through SMS, email, WhatsApp, Facebook messenger, Skype & even through Chatbots - all managed from ENCollect.

E-receipts and cheque payments: Completely paperless!
ENCollect app takes away the nightmare of managing receipt books & receipt slip inventory once and for all.
Simplifying operations and delivery of real time information to your teams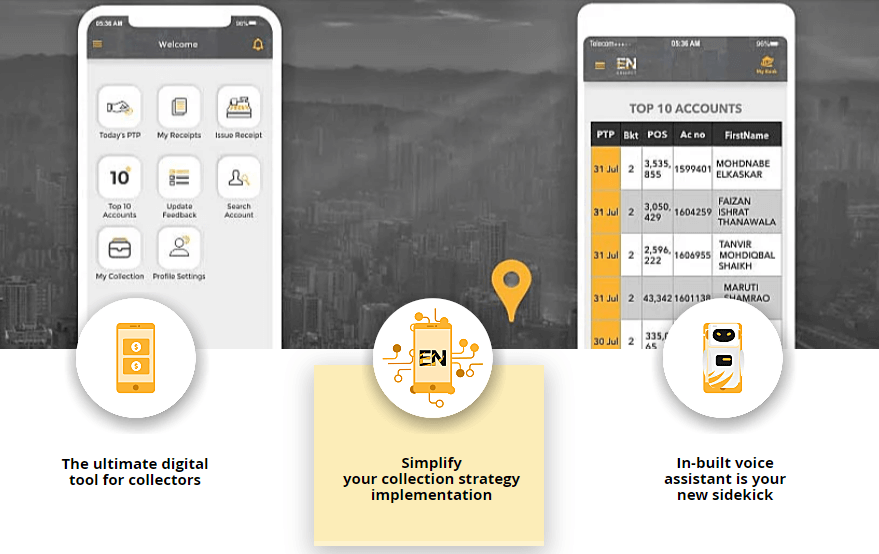 ENCollect workflow automation takes away the grind of manual operations from all collections processes - account allocations, payments tracking, cash /cheque deposit process, communication, payment reconciliations, hardships initiation, legal management & repossession management.

Managing agencies & enforcing compliance - everyone in your radar
When you subcontract collections work to agencies, keeping things in control is not easy.
ENcollect makes contract management & compliance maintenance easy for your operations team. You can define and enforce empanelment rules for different types of agencies when onboarding them. Create digital contracts or manage digital copies of contract documents & collaterals in one place.
Allocations and re-allocations simplified

Are you struggling everyday with bulky excel sheets & back-n-forth emails for allocating accounts & tracking statuses ? ENCollect's digital allocations is here to save you a lot of hard work.

Real time tracking, reporting & instant course correction
Getting overwhelmed with tons of email exchanges, excel updates & frantic phone calls to gather statuses? And the pile up of paper receipts for reconciliation? Get ENCollect. In ENCollect, statuses & account dispositions get updated in real time from apps and other interfaces. Reconciliation data is always available for import into core systems. Keep a daily track of payments. Zero hassles & quick turn-around.
Learn more by checking ENTiger's brochures below:

ENCollect - e-brochure.pdf
ENCollect Use Cases.pdf