WinActor by NTT Comware Japan: Robotic Process Automation Tool
Robotic Process Automation (RPA) is the go-to tool in improving productivity tenfold by automating repetitive and manual administrative tasks in your workplace. Japanese tech giant NTT Comware's WinActor, a user-friendly RPA tool, helps businesses automate manual tasks without any expertise in coding.

Using artificial intelligence and machine learning, businesses can automate tasks and create scenarios where the RPA tool can be beneficial in their operations. Having this cost-effective automation tool lessens the need for your workforce in doing low-return tasks such as data entry, emails, customer support, and billings.

Here are some of the businesses applications for our RPA tool, WinActor:
Data Acquisition: Acquiring data from various sources such as PDF and Word documents
Data Manipulation: Carry out arithmetic operations in formatting letters based on acquired data
Output automation: Filling out and creating forms using extracted data
Startup automation: Scheduled startup of the RPA tool without any need for manual intervention.


Productivity boosts tenfold and beyond:

Slashed from 8 hours to 10 minutes!

For input in an order-taking system, a workflow now takes 1/50th the time: order reception → list generation → system input → shipping arrangements.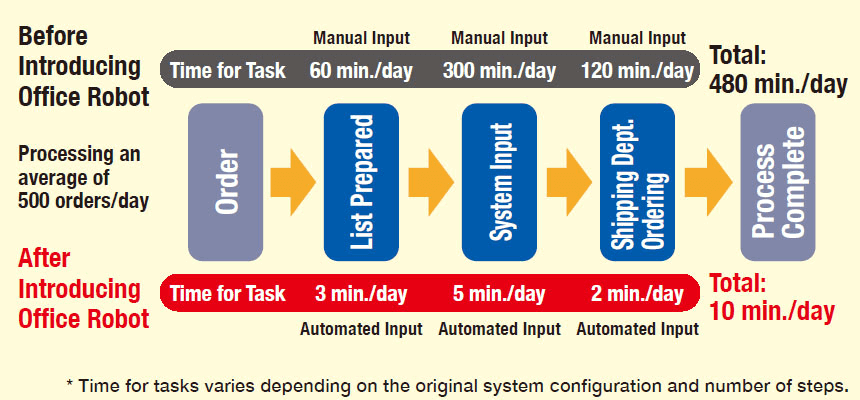 Slashed from 40 to 10 man-hours per day and error rates reduced from 0.3% to 0.0%!
For billing that involves client-specific discounts, input was automated in a workflow involving visual confirmation to apply discounts. The work now takes 1/4 the time and reduces the number of people required from five to two.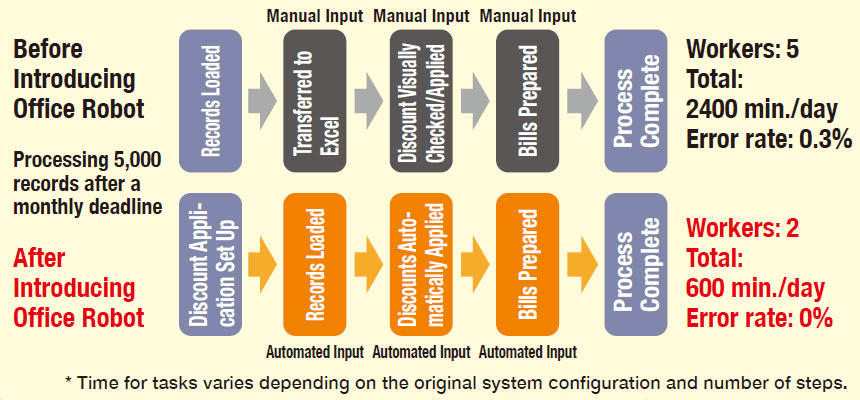 Example when used in billing with customer-specific discounts

For more case studies, send us an email at inquiry@infomax.com.ph or contact us through our website!